People fear leaving their safe harbor of the known and venturing off into the unknown.

Human beings crave certainty – even when it limits them.

Robin S. Sharma
In this series, we've been taking a look at how we react to environments that are volatile, uncertain, complex, and ambiguous (VUCA). These days it can seem like the whole world is VUCA, and it's not always easy to navigate.
When we learn to understand how and why we respond to VUCA environments, navigating them can get a little easier.
As we've covered in the series, we're wired to react, and when we do, we lose access to our pre-frontal cortex to varying degrees. We need our pre-frontal cortex online to navigate VUCA environments, and yet it is our reaction to VUCA environments that compromises those same pre-frontal functions. You get the conundrum.
And, as we've covered, deciding to not be reactive doesn't do it. What can help, though, is learning to recognize the indicators, the styles, of reactivity. Getting to know your styles and those of the people around you can help you navigate difficult situations.
In past posts we've covered 11 of the 12 styles from my book, Going Reptile: How Engaging your Inner Lizard Leads to More Fulfilling Work and Personal Relationships.
We've take an look at the four main categories of reactivity or Going Reptile:
Fight
Flight
Freeze
Fawn
And we've looked at how these different protective movements, or styles, show up in different people and in different ways, or styles.
In this post we'll look a little closer at the last of the Fawn styles, which I call The Backpedaler.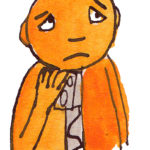 We can recognize someone utilizing the style of The Backpedaler by his or her hesitation to confront or risk criticism. Someone exhibiting this style may feel safer being seen as wrong than taking a stand for what they see as true in the situation.
It's important to recognize this as a safety style. It's not that this person is weak, timid, or without backbone. It's that they are attempting to feel safe.
If we're unable to recognize what is happening, we may find ourselves becoming aggressive, attempting to get this person to say what it is that they actually see or want, only to find them retreating further and further into a corner. And, perhaps, finding ourselves at a loss as to what to do next.
It can be challenging if our partner or a co-worker exemplifies this style when they feel scared. We may really want to hear their opinion. Sometimes it can become scary when someone else won't share his or her perspective. And, with this style present, that can quickly lead to a viral situation, where multiple people get reactive.
For someone who learned to stay safe by retreating and taking on "being wrong," being asked to step up and become more visible can feel quite threatening. Even if the situation does not appear threatening to others who have other styles.
By recognizing what is happening, the outcome can be dramatically shifted. Noticing is a powerful tool.