"The men with the muck-rakes are often indispensable to the well-being of society,

but only if they know when to stop raking the muck."

  -Theodore Roosevelt
We're wired for safety. And sometimes that wiring becomes what feels like a trap, a cage or a limiting structure. In this series, we've been looking at the different ways that the limitations of our wiring can show up in our lives.
In my book, Going Reptile: How Engaging Your Inner Lizard Leads to More Fulfilling Work & Personal Relationships, I explore how our brain works to create safety, and how we can re-wire it. Here, we're looking at indicators – ways we can recognize when we're in safety mode. (Safety mode means less bandwidth for creativity, innovation, connection and executive function.) For most of us, maximizing bandwidth for the above is optimal for our happiness.
Each of our safety impulses have a unique personality—a style. And getting to know our styles can help us in feeling less trapped, less caged – and help us move toward more freedom, fluidity, and connection.
We've taken a look at the styles that we as humans use to stay safe in the categories of Fight, Flight, and Freeze. We're now exploring the various expressions of the fourth and final category of styles: Fawn. If you want to catch up, you can do so here.
I call the second of the Fawn Styles The Indispensable One.
You can recognize this style as scrambling to make a valuable contribution.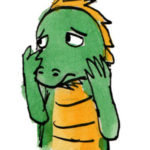 When we're exhibiting this safety style, we often find ourselves feeling desperation as we try to find ways to become indispensable, to get sustained recognition for what we're bringing to the table. At some level, our idea is that if we can become truly indispensable, those around us will see that they cannot survive without us, and once they feel that way, we'll be able to relax. We're safe.
I'm guessing you can see how challenging this feels from the inside, even if you've not experienced this yourself. The safety is totally dependent on someone on the outside experiencing their own crisis – one that only you can solve. Your safety is tied to their need for you.
When we look at it objectively like this, we can see how this strategy cannot work – for anyone. Yet, from the inside, this strategy can feel like the only path to survival.
This is where awareness becomes crucial. These dynamics come up—in ourselves and in those around us—all the time. If we cannot recognize that what is happening is really coming from a need for safety, we may inadvertently make the situation much worse, simply by attempting to get this person to stop feeling the way they feel in the moment.
Once we learn to recognize these safety styles for what they are, in ourselves and in others, we can learn to slow down and embrace what is arising. We can see that when someone is scrambling for safety, not much else will get done. Our brain makes sure that safety trumps all else. It's just how we're wired.
As counter-intuitive as it may seem, pushing through doesn't work. The reality is that the person who is exhibiting a safety style now has compromised access to their pre-frontal cortex. And this can go viral quickly, particularly if we're not aware of what is happening.
Is this really that dire?
No, not really. It's just counter-intuitive.
What can I do?
Learn the safety styles. Begin to recognize when you or someone around you is exhibiting what appears to be a safety response.
Experiment with:

Slowing down when you see a safety response.
Getting softer.
Gently exploring what may be happening, whether it's you or someone else exhibiting the safety style.
Allowing the person or people to settle before moving on.
Remember, when we lose access to our pre-frontal cortex, we lose access to the functions we need for relating, creativity, innovation, and executive function – precisely the capacities we need to navigate challenging situations. We all Go Reptile sometimes, so it behooves us to include the invocation of safety strategies or styles as part of our toolkit as human beings.
In the next blog post, we'll take a look at the last of the fawn styles.